Performance Tips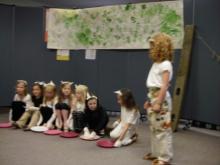 Guiding children in any performance is quite a challenge! First, you have to find an appropriate play with roles that match the size of the group.
We have found a lovely, older collection of plays at the library called Children's Plays from Favorite Stories (Kamerman) that is simple to use with prop suggestions and stage directions. Although it's a little more work, choosing a classic story, like an Aesop Fable or The Billy Goats Gruff, and adapting the story to fit your class is not too hard. You can even involve the class in the adaptation.
Here are some tips for your drama:
Plays with a chorus are wonderful for young children.
Short lines with lots of back and forth can be difficult.
Don't be afraid to customize the script to match your cast. We changed the script mid-practice and it was a big help one time!
Children can design simple sets. Fingerpainting on large sheets of paper can be fun (our 4 and 5 year olds designed the rather abstract tree canopy in the backgound of these two plays).
The sooner the kids memorize the lines, the more they can focus on delivery.
Break the play into scenes or other small chunks to focus on one part at a time.
Dress rehearsal is a must!