Edgar Degas (1834-1917)
This quarter we discuss the French painter Edgar Degas. Degas was acknowledged as the master of drawing the human figure in motion.
He was part of the Impressionist group, however he differed from them in a few fundamental ways such as in his lack of interest in the study of natural lighting. He preferred studio work and most of his scenes were of racecourses, theaters and dance halls, as opposed to landscapes. He is well known for his ballet and horse paintings.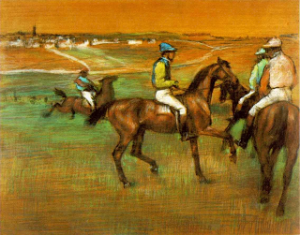 In class the students learned the basics of sketching a ballerina and a horse and created a sketch (or two) of their own! Please have them share what they learned with you! We hope they enjoyed the lesson!!