Catholic Schoolhouse Virtual Community
Helping cultivate the true, good, and beautiful in your homes!
"I love Catholic Schoolhouse because it lets me homeschool MY way!"

– Rebecca, Pennsylvania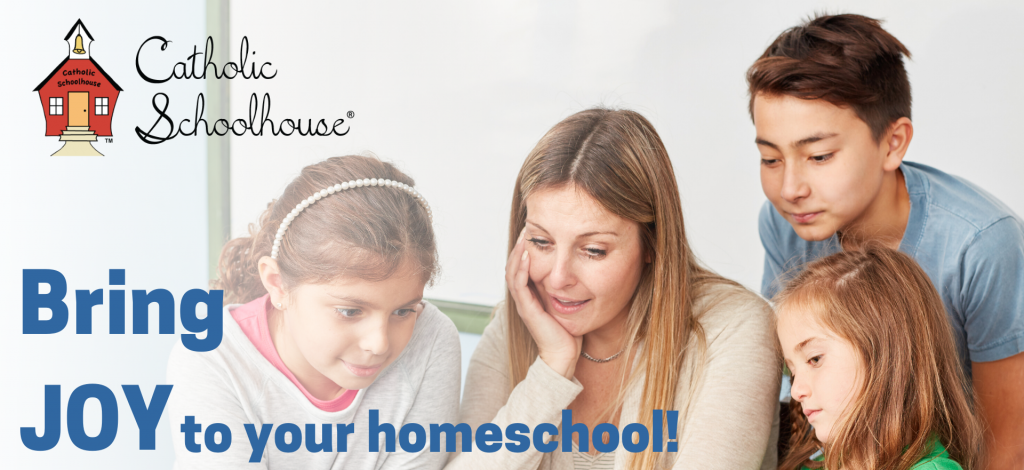 Catholic Schoolhouse is excited to announce bringing the benefits of a Catholic community to remote homeschooling families!
Catholic Schoolhouse is Classical. Flexible. Accessible.
Proudly Catholic. A place to connect and belong. Open to all.
Experience more with family Catholic Schoolhouse membership. 
Unlimited access to the Catholic Schoolhouse sharing and exchange site.
Enjoy family unity with all students learning the same topics – this year, its Tour I.
Affordable family pricing – one membership for your entire family.
Get CSH downloadable products.
Discount coupon to the Catholic Schoolhouse store.
Collaborate with other Catholic Schoolhouse homeschooling teachers (users) and families in a sharing zone.
Experience great lists and printables shared member-to-member (infinite value with our one-of-a-kind copyright license).
Access to Microsoft Teams App for PC or phone, including Microsoft Office 365 online plus educational apps.
Weekly challenges to keep your family engaged.
Excel with fun peer competitions.
Joining is as easy as 1-2-3!

STEP 1
Register and Purchase your Catholic Schoolhouse Virtual Membership.
$250
(regularly $350)
*Non-refundable subscription.
Joining an in-person chapter is the best way to share
Catholic culture–please contact a local director about availability.
Chapter members need not purchase this subscription.
STEP 2
Watch your email!
You will receive a link to our netiquette policy. 
Please click, review and e-sign.
This policy cover the Virtual Community guidelines and expectations.


STEP 3
Watch your email!
You will receive a confirmation email with instructions to login to the Catholic Schoolhouse Virtual Community.
Login to the community so you can begin sharing and collaborating with other families.
JOIN BEFORE
Monday, August 3, 2020
To train with us in our preliminary online community event.
Empowering home educating families to share Catholic Culture.
Classical. Flexible. Accessible.
At Catholic Schoolhouse, we bring families together, allowing them to share and experience immersion in a loving Catholic Community–a community that strives to grow in virtue and holiness. Together we encounter the true, good, and beautiful while forming tomorrow's Catholic adults to be light in the world.