My Day with the Pre-Readers
As soon as the entire group has finished morning prayer, the pledge, and chorus, my class arrives at just about 9AM. As the children sit down at their seats with their belongings neatly under their chairs, I tell them we have a new saint to discuss. Because it's St. Therese of Liseux, I begin reading her story to them from the Catholic Children's Treasure Box books (which I will stretch over the 3 class periods that she is our featured saint). I have saved a coloring page for the next week and a sacrifice beads project for the week after that. The children love to listen to stories and are very quiet and attentive.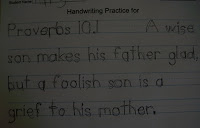 Next, I pass out a handwriting worksheet that I have created to go with our Bible verse. Sometimes, we draw pictures to go with the Bible verse, but most often we do hand motions to aid in memorization. I typically exlain the verse as we practice saying it. It's interesting how some kids are so quick to do the work, while others are so detail oriented that they take more time.
Next, we play a game of charades with our Greek and Latin vocabulary words. Some of the kids can read the words off the cards, but others need the words whispered in their ears. They think this is great fun!
The class is very excited and a little more chatty now, but it's time for them to go to art! They love this time, so they line up very orderly (sometimes we have to do this twice, but the order is important for their self-discipline). Another mom tutors the art classes, and she is prepared with information on the artist as well as a project (such as the Milllet one on the blog) that emphasizes the 7 elements of art.
After art, the kids return excited and ready for the snack, which I have provided for the class. We listen to Tchaikovsky's "1812 Overture" as the kids talk about what they hear in the music during snack.
Now, it's time for what seems to be a favorite of the kids – presentations! Each week, 2 or 3 children bring a show-and-tell item such as a favorite toy or a project completed at home. They state their name, the topic, then tell the class about it. Finally, they ask if there are any questions. It takes about 3-5 minutes per presentation. Some kids are so confident, while others have their mom's hold their hand until they're comfortable.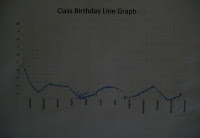 It's time to settle back down for academics, so we introduce the history cards of the week, which we use like flashcards. I show the first cards and the class repeats the title, then we progress onto the second and so forth. Sometimes we have history card relay races (better with the older kids) or find the hidden ones in the class. Some cards are particularly relevant at this level, and I'll read a related story if I have one.
For sentences, I have brought Good Dog, Carl by Alexandra Day, and the kids are writing the sentences to go with the story. We repeat the memory work, "A sentence is a complete thought in words…" quite frequently as we make up sentences. They all think this is fun.
Before leaving my class again to go to their science experiment/project, we begin our new quarter's focus on forces and motion by creating a lapbook that goes with the memory work. This firs week, we put a little gravity booklet on one of the flaps and practice the definition with hand motions. The kids just about have it down when it's time to line up again.
Our science teacher is well prepared and has an experiment for the kids to do outside timing the speed at which different objects fall. The preconceived notions at this age as to what should land first are cute!
When my class returns, we have just enough time to mark the African rivers on maps I have prepared with glitter glue (oops – why didn't I do this first to let the glue dry!!) Then, we finish the day off by calculating the average number of letters in the kids' names. It turns out to be eight! I guess my class has long names.
After this whirlwind morning, we say our closing prayer, the Act of Love, then the kids join their families for noon lunch and playtime! My kids always have lots of fun, and I love that they can learn with their peers as well as play.