CSH App!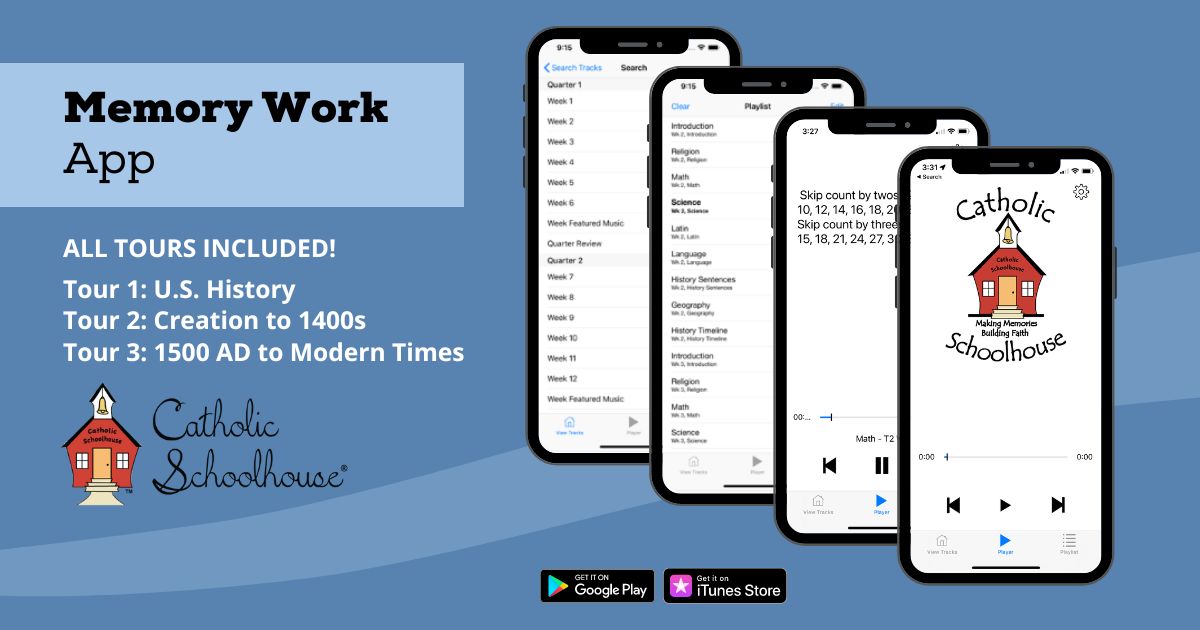 Welcome to the Catholic Schoolhouse App! Memory Work songs for Tour 1, Tour 2 and Tour 3.

Access the Catholic Schoolhouse songs and written text by subject, by week, or by custom playlist created by you! Play your favorite songs. . .or review an entire subject . . . All with your customized playlist!
All three Tours are included for one low price*. An active account is required.
$1.99 per month beta-testing access price/regular $3.99
$24.00 per year beta-testing access price/regular $40.00
---
Start Here. Create your Account.
Download the app from the iTunes App Store (iPhone) or the Google Play Store (Android)
Create an account (subscription required) at CSHapp.catholicschoolhouse.com.
Cancel and manage your account including payment type at CSHapp.catholicschoolhouse.com
Having trouble canceling the app? Click Here.
Begin clicking stars!
Or, read the CSH App Instructional page to make things easy (if you're the instruction reading type 🙂
---
Instructions How to Use the CSH Memory Work App
All Tours are included in your subscription! Download Tour 1, Tour 2, or Tour 3.
After the initial download, all data is stored on your phone allowing the use of your app without access to data or fees.
Switching Tours requires the download of new data.
Each time you switch Tours, the old Tour is removed from your phone, freeing up storage space. This design is intentional for the many, many of us using phones with limited data storage.
Downloading a Tour takes a few minutes–will be fastest if connected to high-speed data
Select either by week or by subject.
Click the star to automatically add all of that week or subject to your playlist.
Click the words to select songs for a custom playlist.
Go to the playlist to play.*
Click the song you'd like to begin with–the player will automatically scroll through your entire list.
Click Player at the bottom of your screen. The player will allow you to pause, skip, repeat, as well as display the text to the song being played.
*Note that you must create a playlist before any music will play.
Add and delete songs from the playlist
When viewing Track Listing, stars turned yellow indicate a song is in your playlist. A partial star represents a partial week or partial subject.
In Track Listing: Click the stars to remove entire week or subject from your list. By subject is the fastest way to clear all.
In Playlist: Click and hold the song to delete it from the list. Note: The song will play as soon as you touch it, so adjust your volume. Go to Player and click the back arrow to stop the player.
---
Troubleshooting
First try:
If that doesn't work:
Try uninstalling your app, then re-download and install the app.
Our developer indicates that one way to fix several of the Android issues is by clearing the app's cache. Even if you uninstall an Android app, there is some residual data that seems to have the issue in it; reinstalling often doesn't help.
Here is a quick guide for your users on how to clear the app data for CSH: https://www.androidcentral.com/how-and-when-clear-app-cache-or-data-android
If you can't log in–email kathy@catholicschoolhouse.com to reset your account–sometimes you are registered under a different email address, and sometimes it gets the cobwebs out if we just delete your account and start over.
Please contact Kathy@catholicschoolhouse.com for help or to report a bug or mistake.
Be assured of a full refund if we can't get things working. Email Kathy@catholicschoolhouse.com.
Questions or concerns?
Email catholicschoolhouse@gmail.com
If you have any errors or issues, we appreciate that you report them to us at kathy@catholicschoolhouse.com.
---
Check back for updates and advanced features.
Our next upgrades as funding is available are:
Multiple playlists for multiple students
Addition of history card images and information
Interactive quizzing platform

Donate now to help make these features a reality! http://give.catholicschoolhouse.com/
---
Need to Cancel your CSH App subscription? No problem!
Cancel and manage your account including payment type at CSHapp.catholicschoolhouse.com